Rock Valley Kennels, Inc.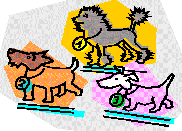 405 Rock Valley Road
W. Holyoke, MA 01040
Ph. 413-535-5100
Email: RockValleyKennel@comcast.net
Frank Jackson, Marilyn L Turner, Steve Turner
The kennel was built to provide and fill the need for safe and quality boarding.
Each dog has an individual indoor den connected to an outside run.
The kennel is heated with radiant heat embedded in the floors for those
long, cold chilly nights. The kennel is well ventilated with an air-exchange
system for those hot summer days. All our guests receive free run and
play time three to four times a day, weather permitting, in small groups.
Most of our guests know each other and also recognize their kennels
each time they come to visit….
We have always fed quality dog foods to our own breeding and show dogs
and our guests, i.e., Pro Plan, Iams, Eukanuba, and Bil-Jac. These brands constitute our kennel diet. However, special dietary needs can be accommodated.
Kennel Hours:
Monday, Tuesday, Thursday and Friday-9:00 a.m. to 5:00 p.m.
Wednesday and Saturday-9:00 a.m. to 12:00 noon
Closed Sundays and all Major Holidays
Check in time within the above hours.
Check out time by 10 a.m.
Additional charges thereafter.
Visitors are welcome by appointment. No walk-ins please.
Reservations and Rates:
Rates apply for the day of admission (Please see rates sheet). A non-refundable $25.00 deposit must be paid at time of reservation and will be applied to
the bill at pick-up. Out of hours service is subject to a $50.00 fee in
addition to the full daily charge.
Payment:
We gladly accept cash and checks drawn from local banks.
A $25.00 fee will be charged for any check returned for insufficient funds.
We do not accept credit or debit cards.